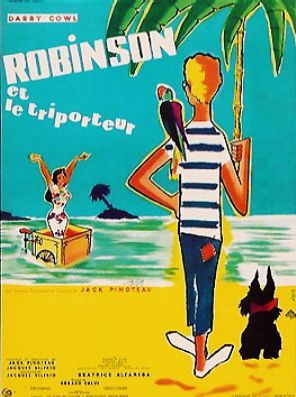 Typical French movie of the late 1950's. I first saw this movie when it came out on TV, circa 1965. Seeing it again on DVD brought me back to memory lane.
Darry Cowl, like Fernandel, Bourvil and Louis De Funès has it's own style. The movie shows somebody madly in love that is ready to do anything to get his lady.
Comic situations that are not too funny, impossible situations and other idiotic scenario makes that movie not very good, but if like me, you liked Darry Cowl when you were a kid, it may be worth watching.
single link
http://www.filesonic.com/file/31428943/RobinsonetleTriporteur.avi
No Pass
or
http://www.filesonic.com/file/35530481/RobinsonetleTriporteur.part1.rar
http://www.filesonic.com/file/35530479/RobinsonetleTriporteur.part2.rar
http://www.filesonic.com/file/35530485/RobinsonetleTriporteur.part3.rar
http://www.filesonic.com/file/35530487/RobinsonetleTriporteur.part4.rar
http://www.filesonic.com/file/35530489/RobinsonetleTriporteur.part5.rar
http://www.filesonic.com/file/35530477/RobinsonetleTriporteur.part6.rar
http://www.filesonic.com/file/35530483/RobinsonetleTriporteur.part7.rar
no pass