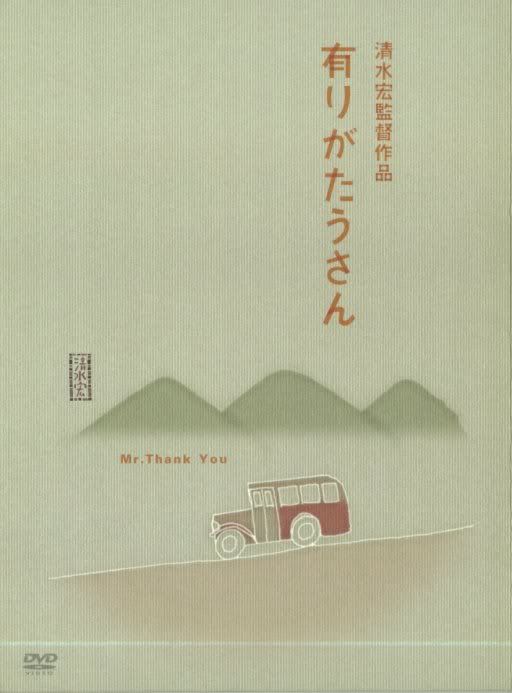 Synopsis
Based on a short story by Nobel Prize-winning author Kawabata Yasunari, this lighthearted road film follows the rolling wheels of a country bus manned by a driver who says "thank you" to everyone he encounters. "Mr. Thank You" drives into various humorous and telling episodes with different passenger and travelers as he rumbles his way through the mountainous countryside. Arigatau-san highlights common Shimizu motifs of location shooting, constant movement, and heartwarming sentiments, while at the same time subtly addressing real-world worries like Depression-era woes and the condition of Korean laborers.
About the Director
Hiroshi Shimizu was born in Shizuoka on March 28, 1903, to a wealthy, socially prominent family. As his father was a businessman who had spent time in the United States, he was undoubtedly exposed to Western culture at an early age. Shimizu attended college in Sapporo, Hokkaido but did not graduate. Indeed, it has been said that his film The Boss's Son Goes to College was semi-autobiographical. Soon after leaving college, Shimizu joined the newly-formed Shochiku studio in Tokyo as an assistant director and in 1924, at the age of 21, began his long directorial career. He was remarkably prolific, directing over 160 films in a career that spanned 35 years. Seven years after making his last film, he died of a heart attack in Kyoto on June 23, 1966, at the age of 63. Often remembered principally as a director of children due to the fame of his late 30s classics, Children in the Wind and Four Seasons of Children, in actuality, his works are far more varied in subject and tone.
Off-screen, Shimizu was known as something of a womanizer and playboy. (One of his marriages was to the great actress Kinuyo Tanaka, who starred in several of the director's films, including Ornamental Hairpin in 1941.) At the same time, Shimizu's love of children brought out his great sense of social responsibility. Independently wealthy, with his own money he established a home for war orphans after World War II. These two sides of his personality - the playboy and the humanitarian - are mirrored in the conflicts depicted in some of his films. Despite his privileged background, his humanitarian instincts led him to side with the common people in their rebellion against the plutocracy.
There are intriguing similarities and differences in the careers of Shimizu and Ozu. Personally, the two artists were very close, with a life-long friendship that began when Shimizu was an assistant director and Ozu an assistant cameraman. Two of Ozu's early films, I Graduated, But... (1929) and Walk Cheerfully (1930), were based on stories written by Shimizu. And both directors were sympathetic to the beauty of their country's traditions. But whereas Ozu liked to create an entire universe on the sets of his Japanese homes, preferring to perfect a minimalist style in many of his later films, Shimizu, who found special enjoyment in taking his cast and crew out on location, continued to utilize a more expansive approach. As Alan Stanbrook notes: "Nobody loved the open road more than Shimizu and he rejoiced in letting the camera track lazily back down the byways of prewar Japan." With his dislike of written scripts and studio shooting, Shimizu, like Ozu, was undoubtedly pleased that the Japanese cinema was so late in adopting sound. While he successfully directed a talkie in 1933, he quickly resumed his work in silent films, making his last silent in 1935.
Review
Alas, no one has ever bothered (yet) to do any DVD release (even unsubtitled) of Shimizu's remarkable chronicle of an ordinary rural bus ride. Filmed almost entirely in (and around) a small bus, as it actually traveled rural roads, this film uncannily anticipates the much later work of directors (like Kiarostami). The film is aggressively limited to the present -- we not only see nothing of the past, we hear virtually nothing about it in the conversations that take place.
The primary cast of character here consists of a good-natured (and good-looking) young bus drive (Ken Uehara), a despondent teenager (Mayumi Tsukiji) and her mother, a fusty old businessman and another young woman (Michiko Kuwano), more sophisticated than the first, but probably not a great deal older. Uehara is called Arigato-san because of his unfailing courtesy as he drives his route -- and he seems to know almost everyone he encounters along the way. Kuwano, dressed in the latest fashions, is clearly interested in Uehara -- but he seems to be more intrigued by the sad (kimono-clad) young woman sitting in the back. As it turns out, she is on her way to Tokyo for the purpose of being (for all practical purposes) sold into sexual slavery, due to the destitution of her family. Her chatty mother seems to be willing to talk about their errand -- but the girl, ashamed, doesn't want the topic discussed. The businessman's main function seems to be as a target for the modern girl's barbs. Meanwhile the driver maintains his composure and sunny disposition, sometimes stopping to chat with people he encounters (especially when they are young and pretty women -- like a pair of traveling musicians and a Korean migrant worker).
While the modern girl says almost nothing about her own activities and livelihood, it gradually becomes clear that she may well have been in the same situation as her younger "rival" just a few years earlier. As the journey goes on, her effervescence begins to wane, as the the younger woman slowly (and shyly) begins to take notice of the driver. Shimizu shows great sympathy to not only these two main heroines, but also to the Korean girl -- who has served as part of a road repair crew (along with her family and other impoverished Koreans) but now must travel (on foot) to a distant part of Japan for her next project. At least during this era, Shimizu might be unique in his expression of open sympathy (here and elsewhere) for foreigners subject to economic oppression and/or prejudice.
Apparently there is a nice looking subtitled print of this film, but my exposure has been limited to (first) a very bad looking copy of a television broadcast and (now) a much better (but still not quite satisfactory) copy of a more recent Japanese broadcast. Assuming one is able to enjoy "plotless" Asian films, this film should be considered a "don't miss" if it is shown anywhere reachable -- or eventually becomes available on DVD.
Further Reading
Longer, more detailed review of the film (Jasper Sharp, MidnightEye)
Analysis of Shimizu's style (Chris Fujiwara, Fipresci)
A lenghty article about Shimizu's life and work, focuses on his silents (William M. Drew, MidnightEye)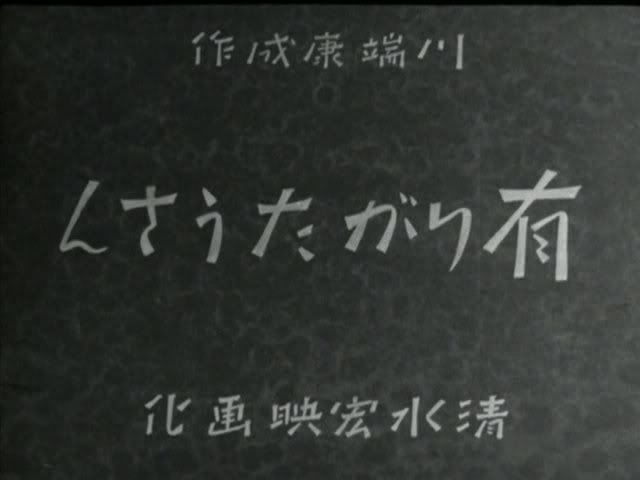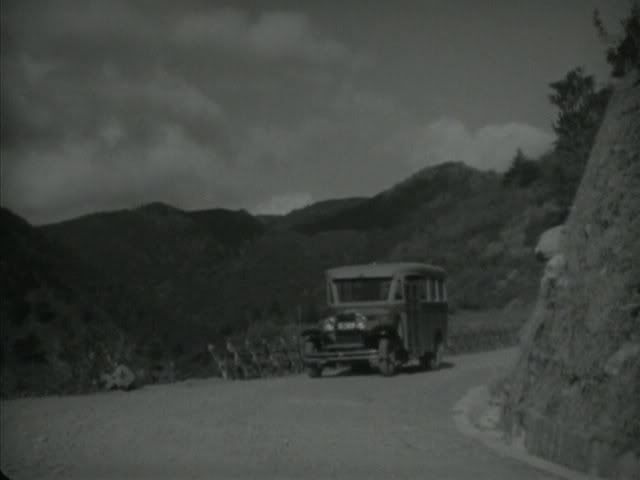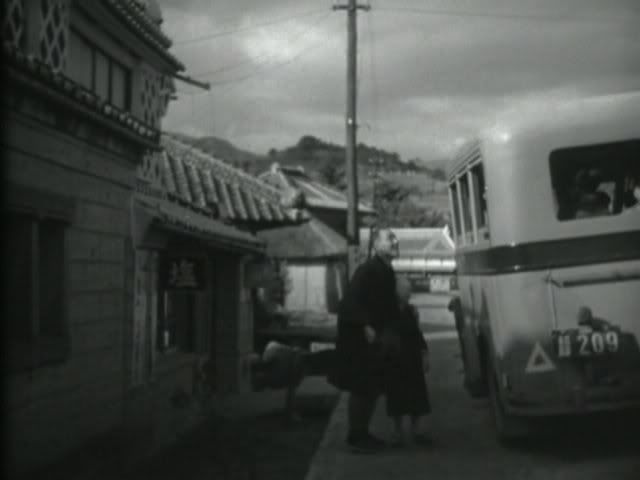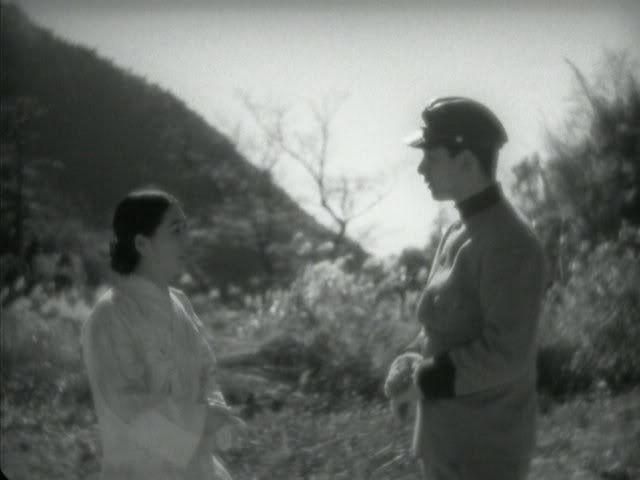 http://www.filesonic.com/file/45800077/Arigato-san.avi
http://www.filesonic.com/file/45795877/subs.rar
869MB
or
http://www.fileserve.com/file/9CaHAyy/Arigato-san.part01.rar
http://www.fileserve.com/file/5R2BK6C/Arigato-san.part02.rar
http://www.fileserve.com/file/565MGEw/Arigato-san.part03.rar
http://www.fileserve.com/file/q6PrDF6/Arigato-san.part04.rar
http://www.fileserve.com/file/WU5YyNz/Arigato-san.part05.rar
http://www.fileserve.com/file/tYRQdp6/Arigato-san.part06.rar
http://www.fileserve.com/file/CaMxMCp/Arigato-san.part07.rar
http://www.fileserve.com/file/CRY9ySP/Arigato-san.part08.rar
http://www.fileserve.com/file/KKwhZeG/Arigato-san.part09.rar
http://www.fileserve.com/file/yBgPrwy/Arigato-san.part10.rar
Subs: Castellano/English
no pass