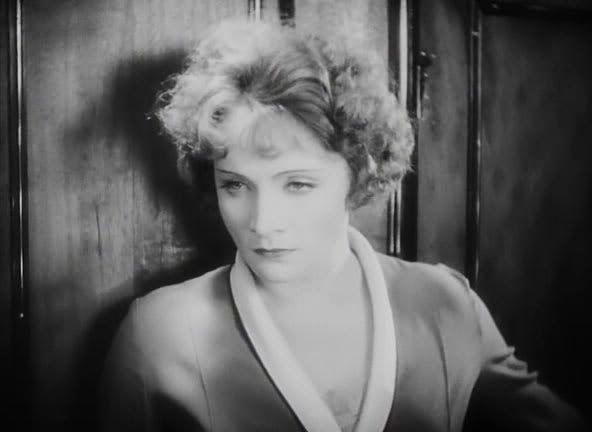 extracts below from
Bright lights film journal
(...)
Several years before Joseph Von Sternberg swathed her in leathers and feathers for his dances of passion and power in Shanghai Express and The Devil Is a Woman, and mere months before donning the silk panties and top hat of The Blue Angel, Marlene Dietrich here gave a performance that looks completely recognizable in terms of her later films. Without question, her charisma is in full flower, suggesting that she brought rather more to Sternberg than is usually acknowledged. Dietrich works her trademark stillness, economy and intensity, with all the centrality of a star, and from her striking entrance, she is photographed like a star, yet Bernhardt's silent film was forgotten in the rush to talkies and the excitement of The Blue Angel, and Marlene herself was content to forget it.
A rhapsodic whirl of infatuation, the triangle plot ostensibly takes place in France, but it conveys a dreamlike feeling of its characters drifting together by chance. As Henry Leblanc, a young industrialist pressured into a strategic marriage with the daughter of a wealthy tycoon, the only way to stave off bankruptcy of his family's steel business, the tall, lanky Uno Henning2 combines strength with an appealing vulnerability. This Swedish actor has an air of boyishness, underscored by an early scene depicting him as a mama's boy, implying that in some sense he is not completed as a man, as virginal as his bride, the better to show him being blindsided by eros.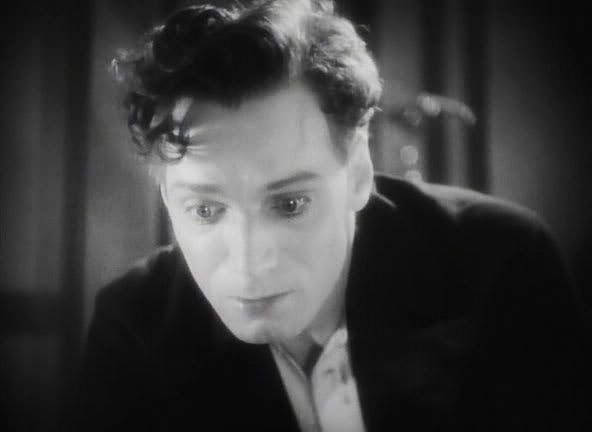 Boarding the train that will take the couple on their honeymoon to the Riviera, Henry suddenly sees a window shade lifted, revealing Dietrich gazing at him with a look that changes both their lives. Like twin searchlights crossing in the night sky, they lock eyes, unable to break their charged look, and unable to move or speak. This is not a seduction, yet the love-with-a-stranger tension between them seems as intimate as the sex act itself. It also provides the key to convince us that he would renounce all his obligations, deserting his bride on their very wedding night. Finally her male companion enters the frame, breaking the spell as he pulls down the shade. Who is she? Who is the man who accompanies her? What is this couple's dynamic? As her suspicious companion Karoff, the monocled Fritz Kortner acts both possessive and possessed.
Bernhardt freshens this hardly original plot with a kind of impetuous energy and visual confidence, thanks to the supple camerawork and voluptuous lighting of Curt Courant (pioneer cinematographer of Hitchcock's original Man Who Knew Too Much, he used one of the first handheld cameras to shoot Renoir's La Bête humaine). Scene after scene feels as if Courant's lens had caught just the right shot, as vapor frosts the train window framing Dietrich's face, or plumes of smoke trail from the rushing momentum of the train. When sunlight moves slowly up the limbs of the sleeping Dietrich, it's like the light is caressing her body (and recalls a similar camera movement moving up the legs of Lillian Gish in Hearts of the World, where one can practically hear D. W. Griffith's heavy breathing in the silence).
(...)
Unlike Pabst in Pandora's Box, Bernhardt does not relate this sentimental education in passion to the mounting social and economic chaos of the Weimar period. Nor is he out to skewer bourgeois hypocrisy, the way Pabst preserves his Lulu's fundamental innocence by showing her as the victim of male weaknesses. Neither angel nor devil, Dietrich's Stasha is more a catalyst for men's desires. If anything, she seems positively magnanimous, generously acceding to the needs of both men. With none of the insolence encouraged by Von Sternberg, without the flirtatious behaviors of her later films, Dietrich's performance seems a model of modern underplaying, fully and delicately nuanced. Her passion seems instinctual, more like the weary empathy of Garbo, inseparable from her being.
It's tempting to relate the shadowy visuals and tragic resolution to the American film noir, with Stasha anticipating the American femme fatale, yet the sexual politics are different. Like Pabst's Lulu (but unlike American cinema's predatory noir females), Stasha ignores money and seeks no economic goal. The film offers neither psychology nor sociology to explain her, but she seems seductive almost by accident, as ready to fall in love as the besotted Henry (or Karoff before him, or her husband before both of them).
Why is this film not known?
Dietrich, ever the devoted caretaker of her own image, always downplayed her pre-Sternberg career, dismissing her seventeen films in six years as little more than extra work(...)In constructing her personal mythology, Dietrich wanted nothing to distract from the glory of her seven collaborations with Von Sternberg. No doubt the more age-conscious she became, the more loath she was to date herself by associations with the patently old-fashioned era of nickolodeons. Who could blame her? In 1950, playing the glamorous musical comedy star in Hitchcock's Stage Fright, how could she welcome reminders that her first screen performance dated back to the year of James Cruze's The Covered Wagon and John Ford's The Face On the Barroom Floor?
Equally, the disappointing public reception of Bernhardt's film, partly blamed on criticisms published by the disgruntled author of the source novel, apparently plunged Dietrich into a period of depression (even though she enjoyed better treatment from the critics than Louise Brooks got for Pandora's Box). Still, Dietrich biographer Stephen Bach suggests that the star temporarily withdrew following the double disappointment of first losing the role of Lulu to Brooks and then making so little headway in her potentially star-making part as Stasha..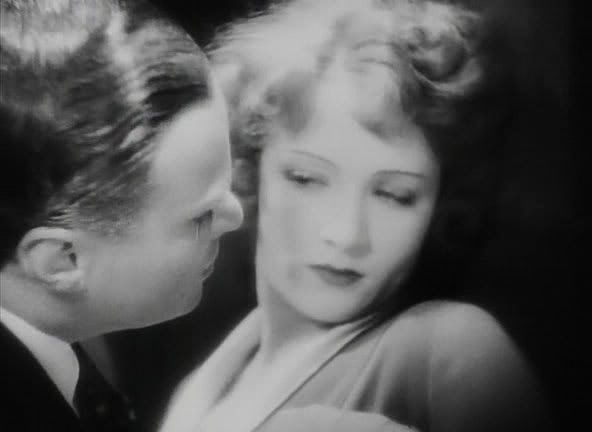 (...)
In the English-language market, "The Woman Men Yearn For" hardly exists. Originally released in the U.S. as Three Loves, the film was then re-released in 1931 (with a synchronized musical score) to capitalize on the newfound stardom of Dietrich. A full half-century later, a restoration was shown in Bologna in 1999, and then appeared at film festivals in Berlin and San Francisco. Sources of record list the film's running time as anything between 75 and 107 minutes.
http://www.filesonic.com/file/128871011/Die.Frau.Nach.Der.Man.Sich.Sehnt.avi
Silent (German Intertitles)
699MB
no pass