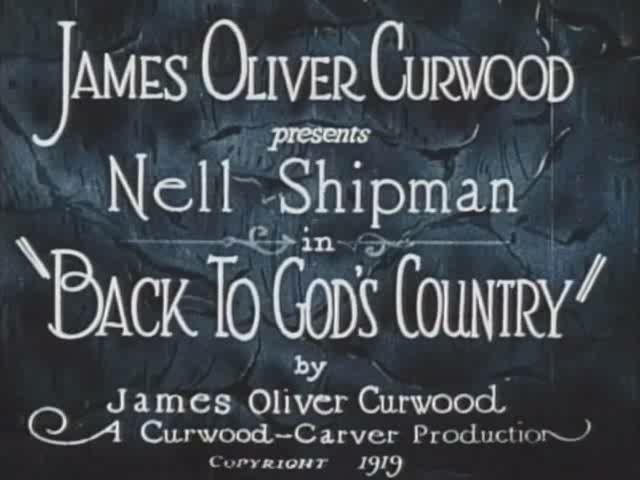 The pioneering female producer, director and action star Nell Shipman in her most famous film, an adaptation of one of James Oliver Curwood's curiously sexualized nature stories in which a woman is saved from the fate worse than death by her faithful dog.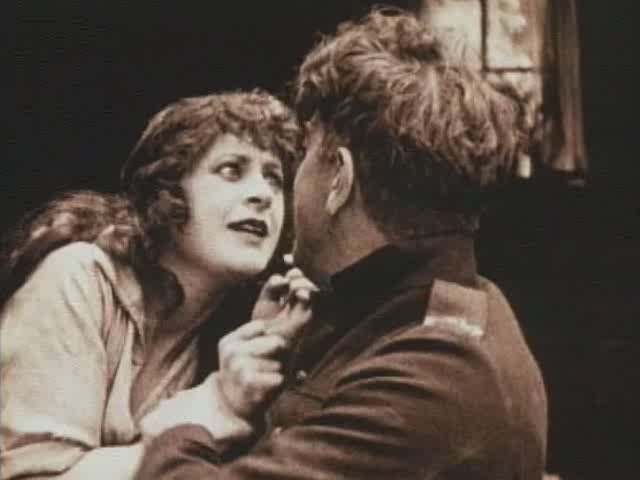 From TCM's program guide:
Back to God's Country (1919) opens on an idyllic note at the peaceful Canadian mountain home where the innocent child-of-nature Dolores LeBeau (Nell Shipman) lives with her doting father Baptiste LeBeau (Roy Laidlaw) and a legion of animal friends. When a handsome naturalist Peter Burke (Wheeler Oakman) stops in at their mountain paradise he is charmed by Dolores and the pair are soon announcing their engagement to Baptiste.
But the always changeable mood of Back to God's Country suddenly shifts from a bucolic love story to a genuine nightmare. A murderous criminal Rydal (Wellington A. Playter) hiding out in the mountains and traveling with his half-breed sidekick, spies Dolores skinny-dipping in a brook and vows to "have" her. Nell Shipman later noted that although an unknown actress named Hedy Lamarr got all the notoriety for her nude swim in the 1932 film Ecstasy, it was actually her lead character in Back to God's Country who provided the screen's first nude swim scene. After a string of horrific events and her father's death, Dolores and Peter begin a new life in the city. But Dolores finds she can't escape Rydal. The rest of the film is a battle of wills between the gentle Dolores and the destructive Rydal and culminates in a deadly confrontation between the two in a remote, northern Canadian port. It is ultimately a dog, "Wapi the Walrus," who comes to Dolores' aid.
Back to God's Country was based on a typically sensational James Oliver Curwood short story "Wapi, the Walrus." Curwood was known for a bizarre fiction formula in which decent women were threatened with rape, only to be rescued from a fate worse than death by a protective dog. Curwood agreed to give Shipman exclusive rights to all of his stories, including God's Country and the Woman (1916) and Baree, Son of Kazan (1918), provided she agreed to star in the films.
Shipman and Curwood were both fascinated with certain aspects of the wilderness and the animals that lived there, but they encountered numerous obstacles while adapting Curwood's story to film. Though they eventually saw beyond their differences of opinion on matters of storytelling, Curwood's first response to Shipman's scripting of his story was hardly subtle. "Rotten! Not my story! Crazy! Bunk!" were the comments Shipman remembered scribbled in the script's margins.
Curwood's prototypical woman-beast storyline was also used in Back to God's Country, with Dolores finding an abused, vicious black dog Wapi, her only companion and helpmate in the barren winter landscape where she and Peter are trapped. Dolores and Wapi form a bond that transforms this fascinating, strange story yet again, from a tale of human evil, to an oddly touching story of the loving relationship between a woman and a dog.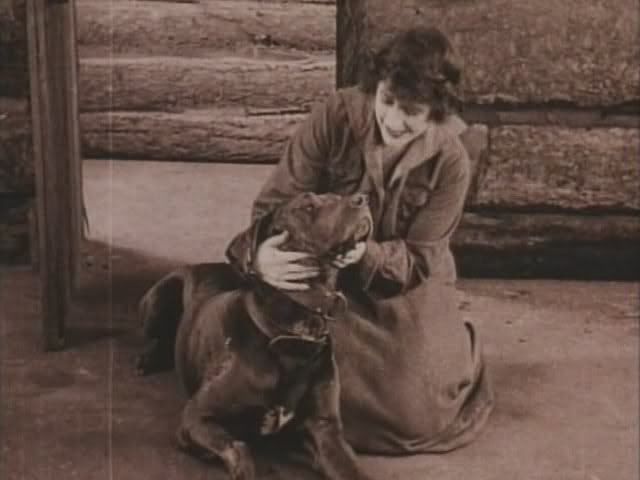 Wapi was played by a temperamental 150-lb. Great Dane named Tresore, who intensely disliked all people other than his trainer Doc Graff and Shipman. The ferocious Tresore was used in scenes without people, but it was his gentler brother Rex who served as his double in all scenes with actors.
Though David Hartford is credited as the director of Back to God's Country, the real talent behind the film was Nell Shipman, a remarkably accomplished woman who often directed, starred in, produced and also scripted her films.
Born in Canada, Shipman arrived in Hollywood at the tender age of 14. She rose from an actress to become a writer and then one of silent film's first female directors. In 1920 Shipman also established her own production company and became known for the adventure films she created which often centered on a cast of some 200 animals -- skunks, wolves, bears -- the actress used in many of her films. Shipman was an innovator in many other regards too. In an age when films were generally studio-bound, she insisted on shooting dramas like Back to God's Country on location in the remote wilds of Idaho and Canada. And unlike the usual dictatorial, hierarchical nature of filmmaking, Shipman practiced a different philosophy in her work, and saw film as a collaborative art form. Shipman was also an early advocate for animal rights and conveyed her love and respect for animals in both her films and her private life. That stance caused even more friction with Back to God's Country author Curwood, who was known as a big game hunter. Shipman noted with disgust in her autobiography that Curwood even used a publicity photo of himself posed with a foot on a dead grizzly's head.
After a short-lived but remarkable career breaking boundaries Shipman had an unhappy end in Hollywood. Over the course of her career, Shipman had often made financially unwise moves, like failing to acquire a major distributor for her films. And she lived to regret her decision to turn down a seven-year contract with Samuel Goldwyn. Shipman died penniless in Los Angeles in 1970, and her pioneering work and unique, feisty personality (captured in her autobiography The Silent Screen and My Talking Heart published posthumously) has been largely overlooked in film history. Tresore met a comparably sad end as well, dying a painful death after being poisoned.
Director: David Hartford Producer: Ernest G. Shipman Screenplay: James Oliver Curwood Cinematography: Dal Clawson, Joseph Walker Production Design: (Production Management) Bert Van Tuyle, Gavin Young Music: Paul M. Sarazan Cast: Nell Shipman (Dolores LeBeau), Wheeler Oakman (Peter Burke), Wellington A. Playter (Captain Rydal), Roy Laidlaw (Baptiste LeBeau), Charles Arling ("Sealskin" Blake). BW-75m.
by Felicia Feaster
http://www.filesonic.com/file/139845041/BacktoGodsCountryDavidHartford.avi
silent
700Mb
no pass